It's hard to simplify complicated things.
But it's usually worth doing.
Simpler things cut cleanly through resistance, moving faster and more efficiently toward their destination.
That's what we've been trying to do for the last year at Pearson. Our approach to simplification - and therefore better returns and long term value - has been to improve our results; to build world-class businesses; and to weave them into a web of operations stronger together than apart. We're making progress.
We promised to generate double-digit earnings growth each year, expecting that such results, consistently delivered, would double the value of the Company over the next five years. Double-digit growth was a simple message. Some critics said we shouldn't have promised it, but most of our shareholders and employees appreciated the guidance.
We have delivered double-digit growth for 1997. This report records all-time high sales and profits, and they set the pace for next year. We achieved these earnings by aiming high on our three performance measures: revenue, margin and cash. Throughout the Group, we scored strongly in two of these, revenue growth and margins. Our cash generation was hampered by the improper accounting in our trade book business.
Part of what drove these good results was some tough management and good selling in a good market for the Financial Times. Another part was a hard-fought turnaround in Mindscape. The quick and thorough integration of Putnam with Penguin yielded rewards, too. A new management team brought disciplines and excitement to Addison Wesley Longman and set that business up for great things, while managing to keep it stable. All in all, every business made progress toward either a broader strategic goal or in financial terms.
While we were working on results, we were also working on our other goal of building businesses with global franchises or strong market positions. As a first step, we set about divesting assets that we didn't manage, that we couldn't achieve a leading position in, or that were worth more to others than to us. As a consequence, in 1997 we raised £220m in asset sales, and we added £320m more by the time this report came out.
As a second step, we began investing in some of our strongest global brands. We spent the first phase of our £100m investment in the Financial Times, attracting new readers throughout America and Europe. We also improved the possibilities for the Financial Times brand by bringing its operations together under one banner.
In television, we took a big step toward building a global franchise. The acquisition of All American in November made us the world's largest independent international producer of television entertainment. Its integration with Pearson TV was accomplished smoothly and to greater advantage than we had foreseen.
Our efforts at cross-company sharing of rights and skills began to look more like real money and less like flights of fancy, too. Addison Wesley Longman and the Financial Times are joining together to create a management education business that will be a leader in its field. Penguin and AWL are pooling their efforts to improve our English Language Teaching businesses' offering both for consumers and for institutions. Our intellectual property rights committee, drawn from across the Group, has started on ideas that could create completely new products.
All our successes this year stemmed from a common root. The markets for our products were buoyant, but that was not the reason we did well. Our brands showed their power in all kinds of places, but they don't deserve all the accolades. Our competitors stumbled in critical areas, but we didn't credit our strengths to their weaknesses. We were successful because of the people who work in Pearson. We have begun to build a talented team, 18,000 strong, and they will create the web we believe will bring our shareholders the greatest value.
To recognise the contribution of people to this business, we re-vamped our bonus and long term share ownership plans in 1997. We want people to take home a share of their achievement, and to have a stake in the Company that puts them in the same shoes as any other shareholder. These plans will help.
We won't spin our Pearson web overnight. We'll do it deliberately and with a careful eye toward fulfilling our promise of double-digit earnings growth and a more valuable company. Along the way, we may choose to take some leaps to gain major market positions. In the end, we will likely be in fewer businesses than we are now. But in the process, we will be a stronger, more reliable performer for our shareholders to own, a more exciting and fulfilling Company for our employees to work in, and a world-class competitor.
In general, a simpler, surer company.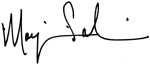 Marjorie Scardino, Chief Executive
March 1998