Education
Addison Wesley Longman
AWL achieved underlying profits growth of 8% after taking account of the impact of adverse exchange rates, the timing of the acquisition, in 1996, of HarperCollins Educational and lower restructuring costs in 1997. Revenues were up 6% in constant currency, but the effect of a strong pound masked improvement over 1996 in sterling terms.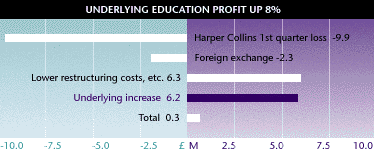 Half-way through the year, a new chief executive and a number of top managers joined AWL, bringing substantial experience to their new company. This new management team has set about developing new products and marketing programmes, restructuring the worldwide financial, managerial and sales organisation and reducing operating expenses. These initiatives resulted in restructuring costs of £11.7m in 1997. These were partially offset by savings achieved through the successful integration of HarperCollins Educational, acquired in 1996.
US Schools
A slow start to the year was improved by a strong early performance by the newly published elementary math programme, which bodes well for adoptions campaigns in 1998. Even so, sales of £186.4m were down marginally on those achieved in 1996.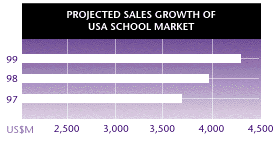 US Higher Education
Sales were higher at £146.9m, with the majority of the increase coming from higher sales in Math, Physics and the Reading Hub and a 15% increase in new product signings.
International Publishing
This business comprises all school and college products published and distributed outside the USA, including the UK, together with worldwide sales of ELT products. Sales of £213.6m for this Group were higher than those achieved in 1996. A new adult ELT course, True Colours, was launched, as well as our first programme in Brazil.