Entertainment
E N T E R T A I N M E N T O P E R A T I N G P R O F I T
All Figures in £ Millions
1997
1996
%

---

---

---

---

Penguin
56.9
25.5
+123
Pearson TV
46.2
43.4
+6
Channel 5
(24.1)
(5.8)
-
BSkyB
3.9
2.4
+63
Tussauds
22.3
21.0
+6
Mindscape
1.6
(46.1)
-
PNE
5.8
1.7
+241
Cedar Fair
-
16.3
-

---

---

---

---

Total
112.6
58.4
+93

---

---

---

---
Penguin
With the acquisition of Putnam Berkley in December 1996, revenue increased by 38% to £524.8m. Operating profits rose by 123% to £56.9m.
Operating profits in 1997 were boosted by first-year savings of $9m on the integration of Penguin's and Putnam's paper purchasing, freight and sales operations. Those integration savings are projected to double to $18m in 1998 and exceed the expectations in our acquisition plan. In 1997, Penguin's new management started to change some of its economic approaches to publishing. They began signing multi-book deals to build relationships with authors, aiming for best-selling books which will bring long term revenues, focusing on popular literary fiction, philosophy, science and business.
Operating cash flow was worse than in 1996, primarily due to lower collections in the early part of the year as a consequence of improper accounting at Penguin USA. Following the discovery of this problem, we conducted, with our new external auditors, an extensive review of financial controls, and corrective measures were completed early in 1998.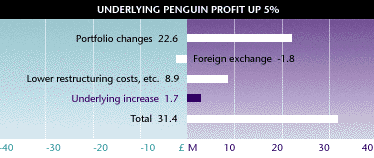 Pearson TV
Sales of £246.6m included £20.1m for All American, the production company acquired in November. Excluding this, sales were up 11% on 1996. Operating profits, excluding All American, Pearson's share of Channel 5 and income from BSkyB, increased by 22% before the adverse effect of exchange rates reduced the increase to 9%. The post-acquisition profits of All American were offset by restructuring costs. The Group has a 24% economic interest in Channel 5, the UK terrestrial channel launched in April 1997. The Group equity accounts for its share of losses and is amortising certain initial costs over the 10 year licence period. The charge to profits was £24.1m in 1997, in line with budgeted expectations.
In 1997, Pearson exchanged its share in UK Gold and UK Living for shares in Flextech plc. Part of this shareholding was sold in June, realising a profit of £23.9m. Pearson retains 3% of Flextech plc, valued at 31 December 1997 at £25.3m. Also in 1997, the Group's investment in Television Broadcasts Limited (TVB) was sold for £109m, realising a profit of £4.1m. In February 1998, Pearson sold its 6.3% holding in Société Européenne des Satellites SA (SES) for £159.5m, realising a profit of £132.2m.
The Tussauds Group
A number of market factors, including the impact of a strong pound on spending by overseas visitors, resulted in slower growth in admissions, revenue and operating profit in 1997. Sales were up by 3% to £107.3m, admissions increased by 5% to 12.9 million and operating profits were up by 6%. Scenerama in Amsterdam continued to enjoy record admissions; a new exhibition which will tour the Pacific opened in Melbourne, Australia in October with admissions 10% higher than anticipated; and construction started on the new exhibition planned for New York.
Inclement weather and safety concerns about a new ride at Port Aventura, in Spain, were a factor in admissions being down by 300,000 on 1996, but we expect the park to get back on track in 1998. Construction of major new attractions at Alton and Chessington parks were completed to budget and in time for a March 1998 opening.
Pearson New Entertainment
Sales at Pearson New Entertainment (PNE) grew by 43% to £90.8m and operating profits more than trebled to £5.8m. Future Publishing, the UK consumer magazine publisher, contributed sales of £70m. The French magazine business contributed strongly, too.